In 1988 President Ronald Reagan proclaimed the month of October to be Pregnancy and Infant Loss Awareness Month - specifically October 15 is recognized as a special day of Pregnancy and Infant Loss Awareness Remembrance.
"There is no greater tragedy in life than the loss of a child. Unfortunately, because our babies live only within our wombs or they live outside of the womb for a short period of time, an uneducated society often minimizes the importance of their short lives and, in turn, our grief is trivialized." Clair Baca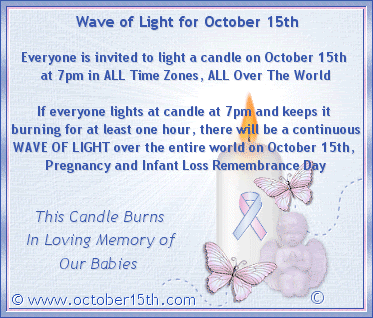 Some people only dream of angels...we held one in our arms.

Jesse
, we love you and miss you so much. We look forward to the day that we get to spend eternity with you in Heaven. I never thought that such a tiny little boy and such a short little life would have such a huge impact on so many people, but you have done just that. There were things that you did in your short little life that some people NEVER accomplish - one of those things being your daddy's salvation - that's huge!
To our other baby angels, we never got the chance to really get to know you, but God formed your life in my womb and because of that you are so very special to us. We look forward to spending eternity in Heaven with you. We love you.
Safe in His arms forever